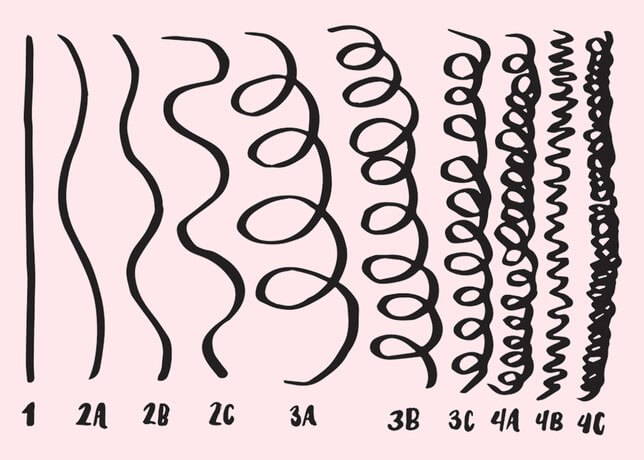 Straight hair has most sheen.
Toughest and most resilient hair vs all of the other hair types.
Hard to damage, difficult to curl, and hard to hold a curl.
Wavy hair is between straight and curly hair.
Shines more than curly hair, but less than straight hair.
The more to the right you go on wavy chart the less sheen the hair will have.
This hair texture is more prone to frizz.S- Shaped waves mixed with loose loops.
Curly hair, curls resemble the letter "s"
This hair type is known for being difficult to keep hydrated and moisturized
With this hair type your scalp's natural oils take longer to travel down the hair's shaft

Over manipulation and styling can cause unnecessary breakage

When this type is wet, it usually straightens out, however, as it dries it needs added moisture.

It is not unusual to find both subtypes of type 3 to exist on the same head.

This hair type kind is kinky, extremely wiry, and has tight coils.
Type 4 hair is usually coarse but is actually very fine.
This hair type strands are normally thickly packed together.
Type 4 hair is the driest hair type which makes it more fragile.
Type 4 hair has the fewest cuticle layers to protect it from dryness.
The top concerns for this type are maintaining moisture, avoiding tangles and minimizing shrinkage.